Well, I'm finally recovered from yet another successful Oscar Bash! Each year I throw a big shindig for my closest buddies. We sit around in our PJs, drink Cosmos, and snack on an assortment of unhealthy foods, while watching the Red Carpet coverage and making snarky comments. Female bonding!

THE BALLOTS



This year's party was the best yet. The swag bags were fabulous, and a great time was had by all. Maria won the Oscar Ballot contest with 14 correct predictions, so she took home the coveted Giant Chocolate Bunny prize. Ellen and Karin tied for second place with 12 correct predictions, and Vickie & I tied for last place with only 11 correct. Oh well, there's always next year.

IT'S ALL ABOUT THE SWAG!



I was especially happy to see Al Gore's documentary, An Inconvenient Truth, take home a well-deserved Oscar. I was disappointed that Peter O'Toole didn't win (good Lord, he looked awful) but wasn't too broken up about Eddie Murphy's loss to Alan Arkin (my second choice).

I thought Ellen DeGeneres did a fine job as host, but they should fire the idiot in charge of pacing the show. Whose bright idea was it to hold all the big awards until the end? What a Snoozefest! At 11:42pm, they'd still only given out ONE acting award. Ridiculous!!





As for Oscar Fashions, my pick for Best Dressed was Jada Pinkett Smith in a golden Carolina Herrera number. There were many well-dressed ladies there that night (Helen Mirren and Kate Winslet were two standouts), but I loved Jada's explanation that, one way or the other, she was making sure her husband Will would be going home with a "gold statuette."

BEST DRESSED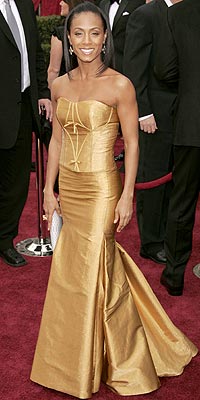 Unfortunately, there were several stars who got it all wrong when it came to wardrobe. My pick for Worst dressed: a tie between the legendary Meryl Streep (adore her as an actress, but ick ick ick, she looked so frumpy) and her Devil Wears Prada co-star Anne Hathaway (ugh, ditch that big black butterfly bow that pointed directly to your rounded middle...it was like a neon sign saying, "Look everyone! It's that time of the month!") Other dishonorable mentions: Kelly Preston in a skanky leopard print dress (looked like it was straight off the discount rack from Mandees) and Nicole Kidman's high-necked red sheath with an enormous bow that looked like it could double as a cupholder.

WORST DRESSED